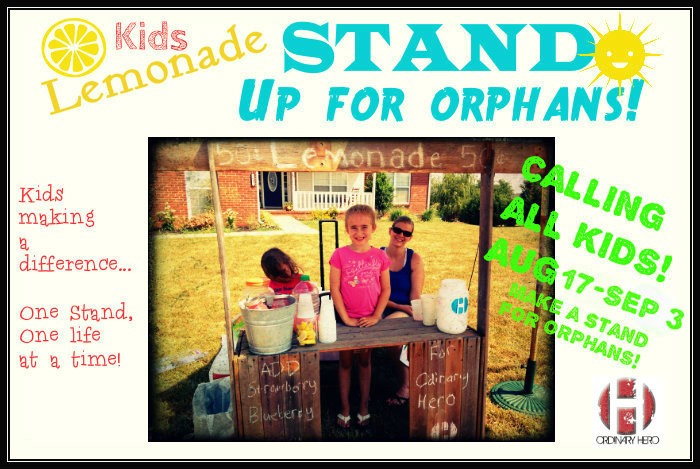 Signup
OK, KIDS (and parents)!!! Are you ready to MAKE A STAND FOR ORPHANS?
FIRST, Check your own State's rules and regulations regarding lemonade stands and abide by those.
This Lemonade STAND Campaign runs August 17 through Sept 3. Online fundraising may start at any time.
Create your lemonade stand and decorate it however you like. Get creative and throw in some awareness for Ordinary Hero. You can launch your stand anytime between August 17 through Sept 3, as many times as you like.
But don't stop there! You can create your very own fundraising page right here and paste the link on facebook and email! Set your own fundraising goal and use this page to help spread the word to reach that goal. This is a great tool for online donations that will immediately be credited to you. Gain your friend's and family's support, even if they can't actually attend your lemonade stand. You can even set up your own team if you like and get them to help spread the word.
FREE "I'M GONNA CHANGE..." T SHIRT WITH FIRST $50 ONLINE DONATION! (LIMIT 2 SHIRTS PER $50 PER KIDS IN FAMILY) EMAIL INFO@ORDINARYHERO.ORG WITH TSHIRT SIZE AND PREFERENCE (short sleeve). See top fundraiser awards below.
CUSTOMIZE YOUR OWN CUSTOM STORY, however you like, to tell people about your cause. Be sure to plug in your offline donations from your lemonade stand under the GIVE button and then enter amount, and OFFLINE. Total offline earnings will have to be calculated once mailed to Ordinary Hero, to be counted toward your individual earnings. Winners will be announced one week after Labor Day on September 10th. Please mail checks made out to Ordinary Hero, to PO Box 1945 Brentwood, TN 37024. Make sure to include a note as to which lemonade stand to credit it to. We need to have received them by Sept 9th.
Send us pics and video of your awesome STAND! We will feature you on our blog and upcoming "Make a stand" video! Email pics to Kelly@ordinaryhero.org and send video through dropbox. Don't forget to tell us where you are from.
1st and 2nd Top fundraisers will have special feature on blog and video, and receive awards. 1st place top fundraiser will receive $100 gift certificate to OH Store as well as receive our GIANT, "Bizzy" the World Changer Bear! 2nd place top fundraiser receives "Bizzy Bear Jr." and $50 gift certificate to OH Store. Most creative OH Lemonade stand, bringing awareness to Ordinary Hero and the orphan crisis, will win $50 gift certificate to OH store and receive special recognition on blog and video.
So get your creative caps on and get ready to STAND up for Orphans!! Have fun "Raising money for kids without parents" as you CHANGE THE WORLD FOR ONE!
MAKE A STAND!
MAKE A DIFFERENCE!
Have questions? Email us at info@ordinaryhero.org.
1st and 2nd top fundraiser prizes, Bizzy the World Changer Bear(1st place), and Bizzy Jr! (2nd Place)