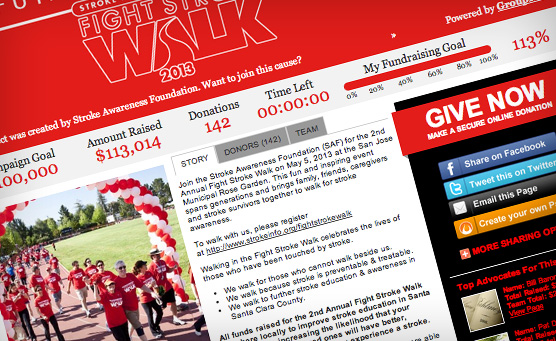 Stroke Awareness Foundation
Someone in the US has a stroke every 40 seconds and every four minutes someone dies of stroke. To combat this, the Stroke Awareness Foundation (SAF) walked to spread awareness and support education in the Santa Clara County. Together with 142 donors and 9 teams to garner more support and donations, the SAF raised more than $113,000 in 2013.
Eastside Christian Church
John had a calling as a dentist. After raising more than his goal of $27,000, he went on a mission trip and travelled overseas to provide dental care to 12,000 families living in some of the poorest conditions in Mathare Valley, Kenya. "I didn't really know what I was doing when I started that first time, but I knew I had some skills. I knew God could use them, so I took the chance and went ahead and did it." To this day, he continues to support the mission, following his life-changing experience in the slums of Nairobi.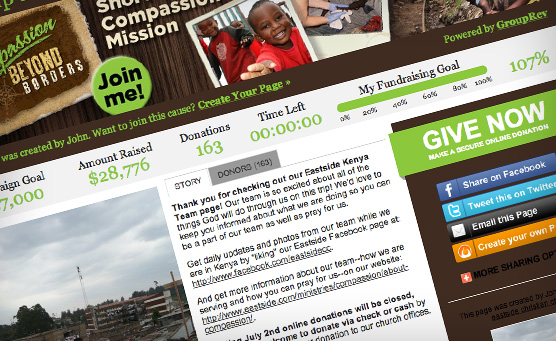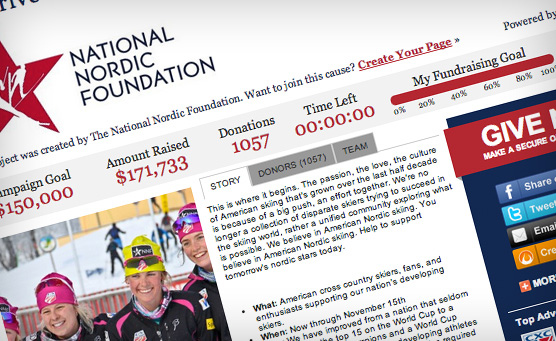 National Nordic Foundation
What's better than having met 100% of your campaign goal? Easy. Exceeding it by about $21,000! It's what the National Nordic Foundation achieved when they pooled together 36 teams, which raised a combined $55,000 with an additional 1057 donors putting in about $116,000. Best of all, this overly successful fundraising campaign helped serve the next generation of US Cross Country and Nordic Combined skiing athletes who represent the United States on the World Stage.
Run for a Reason
GroupRev's own Ashley, who ran the California International Marathon a third year in a row, used the platform to support the inner city kids during the Run for a Reason charity campaign, raising more than $16,000. She says, "The elementary school kids at Oak Ridge have become a huge part of my life. I often wake up before 5 a.m. to train to run on behalf of those little munchkins. It's been so fun, yet heart-breaking at times walking life out with them."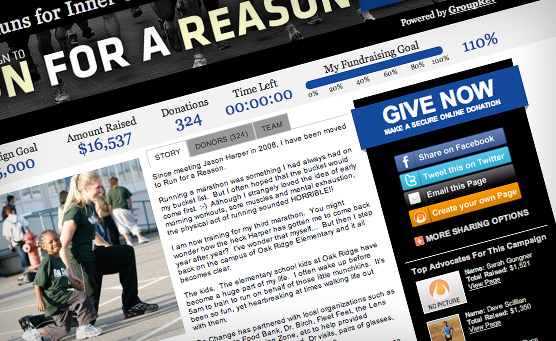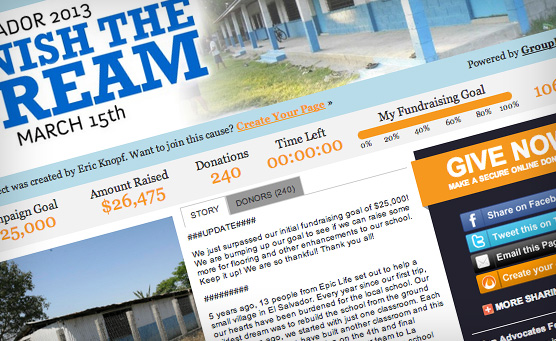 Rebuild a School
When GroupRev's co-founder Eric Knopf headed to La Herradura, a small village in El Salvador, he wanted to transform the education of hundreds of children. In 2012, that mission began when he set forth to raise funds to rebuild a school, which had tin walls and no school supplies. A year later, he raised funds again and, by this time, the school was rebuilt from the ground up with brick walls. Over the past two years, every cent of the $60,000 in donations went toward improving the education for the kids within that community, and it's one of the many reasons this platform exists.
147 Million Orphans
Many of the 147 million orphans in the world don't have access to the most basic necessities like food, water and medicine. Having raised more than their goal of $4,000 to travel abroad, Abbie and Jack Fornadel packed up their bags, headed to Uganda with a group of others on a mission trip and helped the less fortunate.